Linda M. Knoerr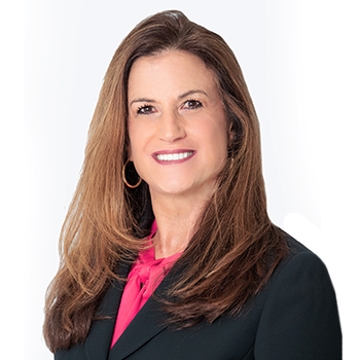 Passionate and caring, Attorney Linda M. Knoerr has always taken on life with an "all in" attitude. These characteristics shine through in her legal practice, where she specializes in representing residential and commercial property owners in first-party insurance claims involving damage caused by natural disasters, accidents, and more. She has been practicing law for the past 25 years and uses her experience to deliver better, faster results for clients across her practice areas.
Linda Knoerr has firsthand experience as a property owner whose home was seriously damaged in a hurricane. She was living in Miami when Hurricane Andrew struck. In the aftermath, she saw how insurance providers dealt with claims and wanted to assist property owners in recovering fair settlements. She studied the insurance regulations that controlled these losses and began fighting for property owners' rights, to help them avoid delay tactics, unfair denials, and underpayments by profit-driven insurance companies. Since that time, she has continued in her mission to help property owners by handling all types of property damage claims, from storm and wind damage to vandalism, smoke, and fire claims.
Linda was born and raised in Flushing, New York. She earned her B.A. from the University of Miami and her J.D. from the University of Miami School of Law. After earning her Florida Bar Association admission in 1994, Linda worked in civil litigation, commercial litigation, and real estate law. She started her own practice, Decarlo & Knoerr, P.A. in 1998 and then established the Law Office of Linda M. Knoerr in November 2003.
Now operating as Partner and Principal Attorney at The Knoerr Law Group, Linda fights to make changes for the underdog on a daily basis. She is goal-oriented and committed to this task, utilizing her skills and education to make a positive impact on her clients' lives.
When Linda isn't working, she enjoys spending time with family and staying active by dancing, running, and kickboxing. She has strong ties with her community and also volunteers her time to help animals in need.
As of 2021, Linda is a Florida Super Court, Certified Circuit Court, Mediator.
Education
University of Miami School of Law, J.D.
University of Miami, B.A.
Admitted To Practice
Florida Bar
Southern District of Florida
Memberships
American Bar Association (ABA), Tort and Insurance Practice
Bench & Bar Committee of Broward County Bar Association, Member
Florida Association of Public Insurance Adjusters (FAPIA)
Federal Association of Insurance Reform, Board of Governors
WIND Conference (Wind Insurance Reform)
Professional Experience
Law Office of Linda M. Knoerr (Coral Springs, Florida)
Owner, November 2003 to Present
Plaintiff(s)' firm specializing in insurance claims, including first- and third-party litigation cases, complex business litigation, and insurance policy regulation interpretation.
DeCarlo & Knoerr, P.A. (Sunrise, Florida)
Partner, September 1998 to 2003
Partner handling insurance litigation, property law, personal injury, and commercial litigation. Represented corporations for human resource management and franchise drafting. Managed staff, prepared accountings, projections of business, rainmaker.
Atlantic Coast Title Inc. (Sunrise, Florida)
President, May 1999 to 2010
Handled residential and commercial closings from contract negotiations through closing, including issuance of title insurance as agent for Attorneys Title Insurance Fund, Inc.
Geiger, Kasdin, Heller, Kuperstain, Chames & Weil, P.A. (Miami, Florida)
Associate, March 1998 to September 1998
Commercial litigation associate attorney responsible for handling commercial cases from client interview through trial. Law firm dissolved in September 1998.
Law Office of David M. Goldstein, P.A. (Miami, Florida)
Associate, November 1995 to March 1998
Civil litigation attorney responsible for large, independent caseload, office management, and assistant to senior attorney. The law practice included commercial litigation, corporate law, real estate, and personal injury.
Volunteer Work
Leukemia & Lymphoma Society / Team in Training / Fundraiser, 2011 - Present
Everglades Outpost, Animal Rescue & Supportive Care
Canine Assisted Therapy
Contact Attorney Linda Knoerr today by calling (954) 749-3151.